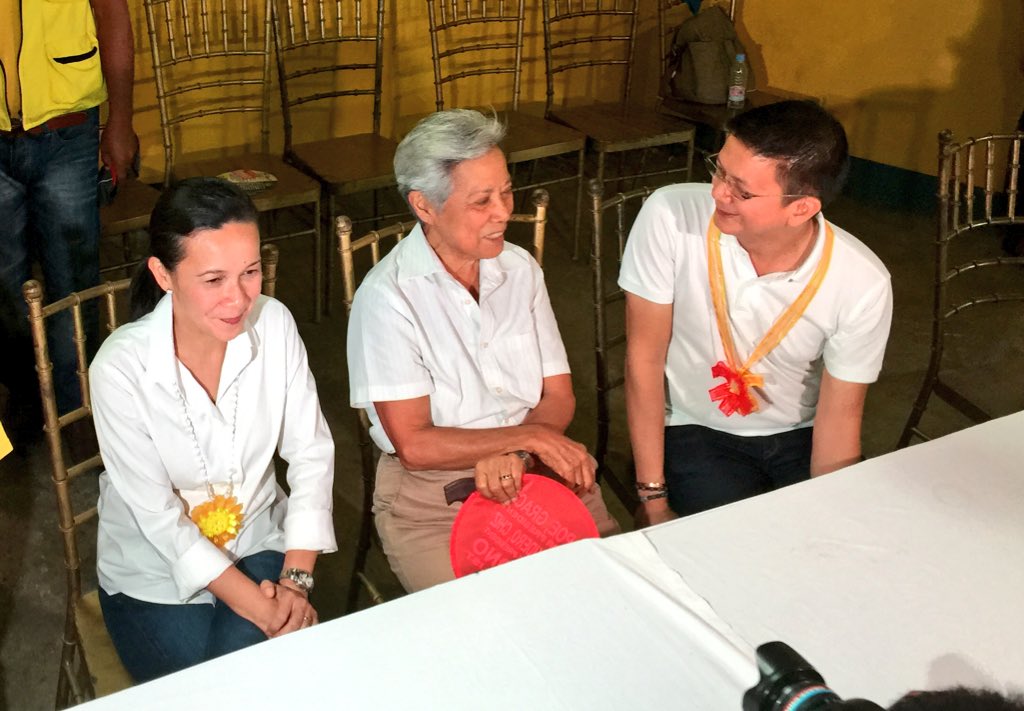 FORMER SENATOR LETTY SHAHANI supports Grace Poe and Francis Escudero
ASINGAN Pangasinan (via PhilAmPress/MTVi) — Former senator Leticia Ramos Shahani, younger sister of former President Fidel V. Ramos, has endorsed the candidacy of presidential aspirant Senator Grace Poe and running mate Senator Francis "Chiz" Escudero.
In a mini-political rally held in the municipality of Asingan here, Shahani joined the two senators and other local candidates led by mayoralty candidate Haide Chua on stage of the Asian sports complex.
Shahani's son, Ranjit, a former congressman and now a senior board member of Pangasinan, has also supported the Poe-Escudero tandem
In supporting Poe, the former lady lawmaker said she believes that a woman president can transform the Philippines, a country already ruled by two women leaders — former Presidents Corazon Aquino and Gloria Macapagal-Arroyo.
"I would like to have more woman power in this country because I think women can transform the Philippines. I think women are less selfish, less egoistic than men, and maybe some men will not like what I will say but I think it is true because we think of our children, we think of other people," Shahani said in a media interview after the mini-rally, one of the four attended by Poe and Escudero here on Wednesday.
As for Escudero, Shahani described him as bright person with good sense of humor like his father, the late Sorsogon congressman Salvador "Sonny" Escudero.
"I know his father Sonny Escudero quite well. I have a lot of interactions with his father. I told Chiz that he inherited his father sense of humor. So I think they would make a good pair," the 87-year cousin of the late former President Ferdinand Marcos.
When asked why she is shying away from the so-called Solid North vote which seen to favor Senator Ferdinand "Bongbong" Marcos over Escudero in the vice presidential race, Shahani replied: "There is no solid vote north, I beg your pardon."
"I'm an Ilocano and Ferdinand Marcos was my second cousin but it does not mean automatically we'll vote Marcos," Shahani said.
"We have other priorities and I think our experience under martial law was not good and I hope it does not come back again and I'm sure many Ilocanos share that hope and wish that we have no martial law and no Ilocano will declare it again over our country," she added.
Shahani also told the media that she did not consult former President Ramos about her decision to support Poe and Escudero.
"We don't consult each other on politics. We're quite independent of each other. And I did not tell him about my coming here to Asingan today. So he will be surprised if he will read the newspaper," she said.
Early this month, the camp of presidential candidate Mayor Rodrigo Duterte released to the media a photo showing Ramos raising the hands of Duterte and his runningmate Senator Alan Peter Cayetano.
Shahani believed that the Philippines can be one of the great countries in Asia "if we will only unite and have politics, good trade and good commerce."
In her speech, Poe said Shahani told her about the latter's concerns on high tax being imposed on small business owners.
"I believe that if we want to entice more people to go into business, we should review the tax being imposed on them," Poe said.
Aside from Asingan, Poe and Escudero also attended small political rallies in the municipalities of San Nicolas, Sta. Maria and San Manuel.
Poe and Escudero said they are happy to return to Pangasinan, the home province of her adoptive father the late movie actor Fernando Poe Jr., to present their platforms of government to the country's third vote rich province with 1.7 million registered voters.
In her speech in San Nicolas rally, Poe said she will push through the construction of the road that will directly connect Pangasinan to Nueva Vizcaya for the access and transportation of the agricultural products between the two provinces.
Poe assured the Pangasinenses that more infrastructures particularly free irrigation system will be constructed in the province to boost the agriculture industry.
For his part, Escudero informed the Pangasinenses about their plan to allot P300 billion budget every year for agriculture, including P4 billion for the irrigation system.
Escudero said they are beginning to feel the support of the Nationalist People's Coalition (NPC), the country's second largest political party that endorsed the candidacy of Poe and Escudero.
"Ramdam na ramdam namin dito sa Pangasinan," Escudero told the media.