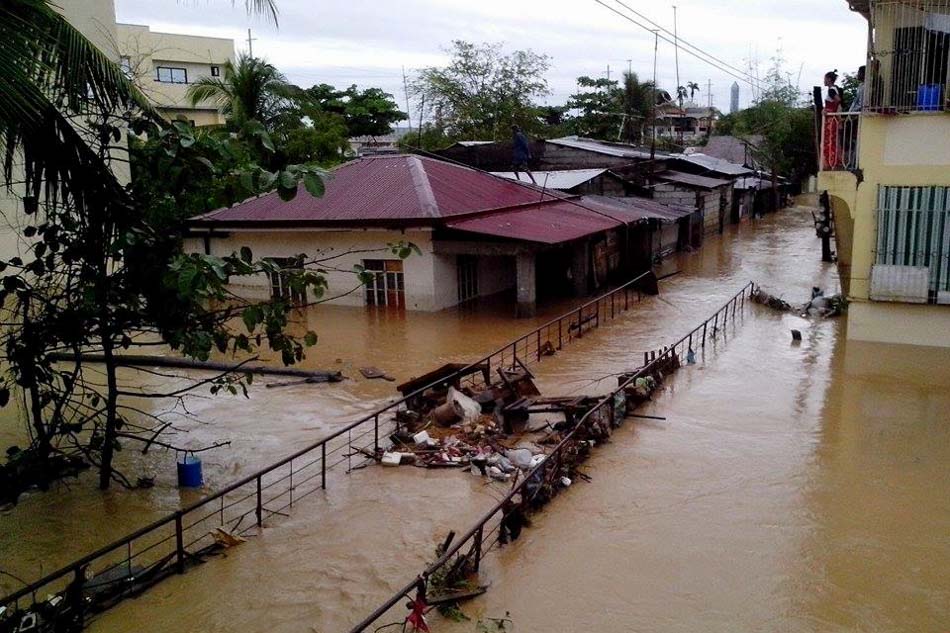 A FLOODED BARANGAY in San Leonardo, Nueva Ecija in the aftermath of typhoon Nona.
MANILA — The fatalities from typhoon Nona reached 34 and still counting while damages was estimated initially at over P1 billion prompting President Benigno S. Aquino III to issue Proclamation 1186, declaring a state of national calamity.
 Typhoon Nona (international code name: Melor) left a trail of destruction, substantial damage and deaths in the provinces of Albay, Northern Samar, Oriental Mindoro, Romblon, Sorsogon and other parts of Southern Tagalog and Mimaropa regions and Central Luzon like Nueva Ecija and Aurora.
This as another typhoon, named "Onyok," moved towards Mindanao and the state weather bureau has proclaimed typhoon signals in
Surigao del Sur including Siargao Island, Surigao del Norte, Dinagat Province, Misamis Oriental, Camiguin, Agusan del Norte, Agusan del Sur, Davao Oriental, Davao del Norte, Compostela Valley, Bukidnon, Lanao del Norte, Lanao del Sur, Misamis Occidental, Davao del Sur, Maguindanao, and North Cotabato as of December 19.
In its latest update, National Disaster Rescue and Rehabilitation Management Council (NDRRMC) said there were three fatalities in Region 4-A in the province of Quezon; seven in Region 4-B in the provinces of Romblon, Occidental Mindoro and Oriental Mindoro; four in Region 5 in the provinces of Sorsogon, Albay and Masbate; and three in Region 8 in the provinces of Samar and Northern Samar.
As of Friday, December 18, the NDRRMC said typhoon "Nona" has affected 76,796 families or 222,438 people in six cities and 137 municipalities in 19 provinces of Regions 3, 4-A, 4-B, 5 and 8.
Of these, 35,416 families or 156,859 people were accommodated in 469 evacuation centers.
A total of 19 roads and four bridges were reported not passable in Regions 3, 4-A, 4-B, 8 and the Cordillera Administrative Region (CAR).
Damage to infrastructure and agriculture was estimated at P94,764,324 and P840,428,619.51, respectively, or a total of P935,192,943.51 in Regions 4-A, 4-B, 5 and 8. The figure increased to over P1 billion and could rise with more reports coming in.
A total of 132,122 houses were damaged (23,614 totally and 105,508 partially) in the four regions.
At least 35 health facilities were reported damaged — seven in Region 5 and 28 in Region 8.
The declaration of the state of national calamity will hasten the rescue, recovery, relief and rehabilitation efforts of the government and the private sector, the proclamation read.
It will also effectively control the prices of basic goods and commodities for the affected areas and continue the provision of basic services to affected residents.
With the issuance of the proclamation, all government agencies have been directed to implement and execute rescue, recovery, relief and rehabilitation works in accordance with the government's operational plans.
All agencies have also been mandated to coordinate efforts to provide basic services and facilities to affected localities.
"Law enforcement agencies, with support from the Armed Forces of the Philippines, are hereby directed to undertake all necessary measures to ensure peace and order in affected areas, as may be necessary," the President said in the proclamation.
The state of calamity will remain in force and in effect until lifted by the President.(PhilAmPress)