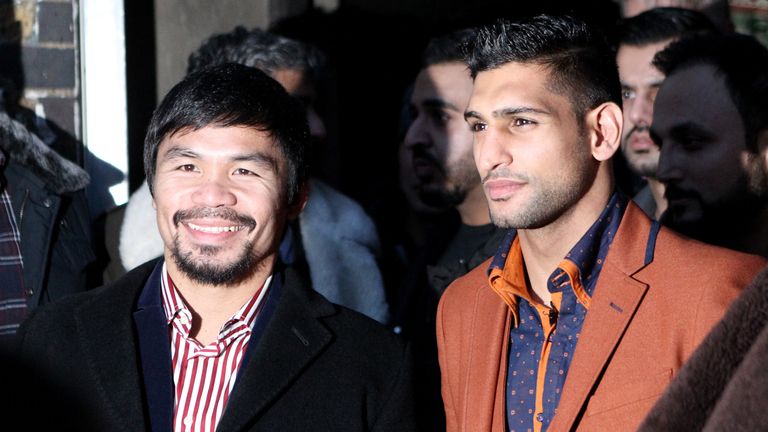 FILIPINO BOXING ICON and Congressman Manny Pacquiao with erstwhile sparring partner Amir Khan
MANILA/LAS VEGAS – Don't look now but newspapers in London are awashed with reports that British figher Amir Khan has agreed to duel with his forther sparring mate, eight-division champion Manny Pacquiao in Las Vegas on April 9.
Reports from London Mail, The Guardian and other British media, in fact, indicated that Khan has signed an agreement for the big-money showdown.
There was no immediate confirmation of the deal from the camp of the fighting congressman and Top Rank's Bob Arum.
Later, Arum denied the fight has been finalized, adding Pacquiao was still choosing who he will fight next.
A Pacquiao spokesman also said "wala pa (nothing yet)" in a text to Philippines Today and PhilAm Press.
Later, Pacquiao was quoted as saying he wanted his last fight to be staged in Manila.
Khan's revelation surprised many in the boxing world considering an earlier announcement that he has pulled out of the negotiations with the Pacquiao camp because it was allegedly sleeping on their proposed contract.
"I have pulled out of the negotiations. I am no longer fighting Manny Pacquiao," Khan said then according to Omar Al Raisi of the Dubai-based paper the National. "I am not going to wait around for Manny like I did for Mayweather. I need to fight and if they don't want to fight then that's fine, I have other targets."
Other experts remain skeptical about the Pacquiao-Khan fight, but others believe it could happen.
Pacquiao earlier announced negotiations for a rematch with Floyd Mayweather Jr. was under way, hoping to be his last fight before hanging up his gloves.
But Mayweather immediately shot down the report, denying that there was negotiation with Pacquiao and his eam.
Before the British newspapers flashed the latest on the fight, Amir Khan was reported to have insisted that negotiations with Pacquiao's camp was alive contrary to reports that the Filipino world boxing icon's team has been negotiating with world champion Floyd Mayweather for a rematch.
Pacquiao, who is running for senator in the 2016 elections under the ticket of Vice President Jejomar Binay. Surveys showed he is in contention being in the winning column in separate surveys.
According to Pacquiao, who is serving his final months as congressman of the lone district of Sarangani, his next fight in April will be his "one last fight" before retiring to devote his time to being senator in 2016.
The revelation of Khan's signing an agreement to fight Pacquiao was made no less by his father, Shah, according to the British papers.
It was revealed by Shah that his son's confirmation of his fight with Pacquiao has been sent by his lawyers to Pacquiao's promoter Bob Arum of Top Rank.
"Our paperwork went off to Arum on Friday and every point is covered," Shah was reported to have told the London Mail.
"The location is definitely the US. The date in April may vary by a week or so but April is the month," Shah added as reported by London Mail.
According to The Guardian, Khan and Pacquiao were sparring partners when they were working with American trainer Freddie Roach in his Wild Card gym in Los Angeles.
Khan last fought last May when he beat American Chris Algieri. Khan is reported due to return to Bolton next month to work with his team.